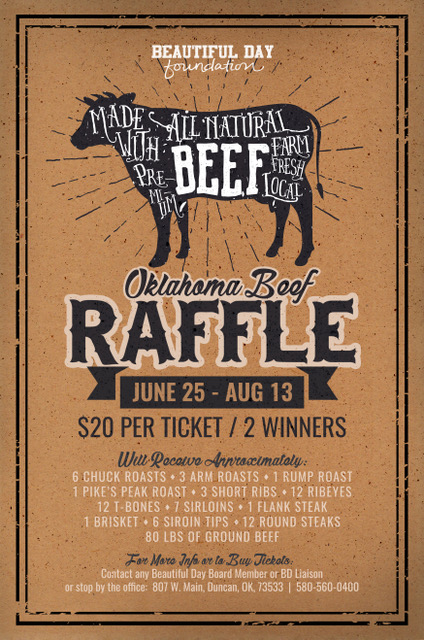 Help support Beautiful Day by participating in our Beef Raffle!
To buy tickets please contact any Beautiful Day board member, liaison or stop by the office at 807 W. Main, Duncan, OK 73533.
Suggested donation is $20 each. There is no limit to how many tickets may be purchased by an individual. Cuts of meat will vary. Net raffle proceeds will benefit Beautiful Day Foundation. If you purchased from a liaison outside of Duncan, your purchase will go towards the Beautiful Day fundraising budget in the community listed on the back of the ticket.  Tickets bought  from Duncan liaisons or board members will be put towards Kindred Community and Beautiful Day Birthday Programs. Winners  will be drawn August 19th and  winners will be notified of their winnings no later than August 20th, 2020. Winnings must be picked up in Sterling, Oklahoma between September 4th – September 10th 2020. Those selling tickets and anyone living in the same household as ticket sellers are not eligible to win.  Beautiful Day will draw at random to determine winning ticket numbers. Beautiful Day will make reasonable effort to contact prizewinners using information provided on the ticket. If a prizewinner does not contact Beautiful Day within 48 hours of the initial contact notifying the winner, the winner refuses the prize, or is unable to pick it up during the allotted time, an alternate winner will be drawn. Beautiful Day will not award a prize if the winner was ineligible to purchase a ticket or enter the raffle or they provided false or misleading information to purchase a raffle ticket. A Ticket Holder cannot assign or transfer his/her interest in a raffle ticket or prize won by a raffle ticket, but they may give permission in writing for someone else to pick up their winnings if needed because of the size of the prize. Winners may receive a W2-G to report the value of the winnings to the IRS.  Beautiful Day Foundation is conducting this raffle in accordance with Oklahoma law. The raffle is subject to these rules, the laws of the State of Oklahoma, and Applicable Law. If there is a conflict between these Rules and the laws of the State of Oklahoma, the State of Oklahoma will be final. Raffle ticket purchases are not considered tax deductible donations.